Welcome to
TWO MEN AND A TRUCK

in Gainesville, FL
Serving Gainesville, FL
Few people would ever say that moving is easy, but using the professional services of a skilled Gainesville, FL, mover to handle the heavy lifting for you on moving day can help. With assistance from the experienced and knowledgeable moving team at TWO MEN AND A TRUCK® Gainesville, you'll have all of the support and help you need to make your relocation efforts a success. In fact, there's no moving project that's too challenging for our team to handle.
Whether you have plans to move to a new home across the country or you simply need to transport a few items to a storage unit, our professional movers can help. We're committed to your satisfaction, and our 96% referral rate is a sign that we'll work hard to exceed your expectations with quality services.
Moving Services
TWO MEN AND A TRUCK®'s trained moving specialists do more than just home moving – they can move your business, too.
Business moving services range from internal office moves to the relocation of hundreds of employees across Gainesville or across the nation. We also offer moving services that include the delivery of specialty items or the rearrangement of furniture.
Focus on More Important Things
At TWO MEN AND A TRUCK® Gainesville, we will effectively plan your move to minimize interruption and let you get back to your schedule. Our services include:
Extensively trained, uniformed, courteous moving pros
Movers are fully licensed, bonded, and insured
Clean, state-of-the-art trucks with proper moving pads and equipment
Free on-site quotes for home moving and packing services
Move orientation with packing and labeling training for employees
Competitively priced moving boxes and packing supplies delivered to your home for your convenience
Experience handling computers, televisions, and other electronic equipment
Benefits
As trusted professionals, we understand these important factors while moving:
Free onsite moving quotes for residential moving and packing services.
Clean and fully equipped trucks for protection of all furniture, appliances, and other items during the move.
Onsite move manager provided for the day of the move to answer any questions.
After hours and weekend moves for your convenience.
Ability to provide our certificate of insurance listing you as an additional insured party as requested
Relocating your belongings to a new home isn't easy, but a Gainesville, FL, mover can help you with all stages of your plans. Reach out to TWO MEN AND A TRUCK® Gainesville for the help you need with your moving plans.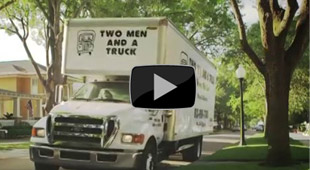 Our Service Area
X X
Alachua
Archer
Brooker
Bunnell
Crescent City
Earleton
East Palatka
Flagler Beach
Florahome
Fort Mc Coy
Gainesville
Georgetown
Green Cove Springs
Hastings
Hawthorne
High Springs
Interlachen
Melrose
Micanopy
Newberry
Ormond Beach
Palatka
Palm Coast
Pomona Park
San Mateo
Satsuma
Waldo